A few years ago, my friend Amy brought over a bottle of her homemade Bailey's that she makes with her mom. Ever since, I've been bugging her to come over and show me how to make it...it was REALLY good! I honestly didn't even care for Bailey's until I tried her version, my drink preference is vodka with nothing too fruity or sweet added to it! Anyway, I finally talked her into coming over last week and this is what happened...
This is a small portion of the ingredients, we also had 12 dozen eggs and about 4,000 cans of sweetened condensed milk...
We saved plastic bottles and then ran them through the dishwasher to give them a good cleaning. My plan was to make super cute labels for our homemade liquer, but once I started drinking...it just didn't seem that important anymore!
Amy in action...
...and then the dog and I had a wee Ulster(ish) fry!
One of the prints in my
Irish photography shop
... it's because of Amy that I was drinking Bailey's on my last trip over! PS: the mint Bailey's...kinda creepy. I'll let you know if I make a homemade version of a Grasshopper that can be kept in the fridge...because apparently my favorite drinks are ones that you can only get at funeral luncheons.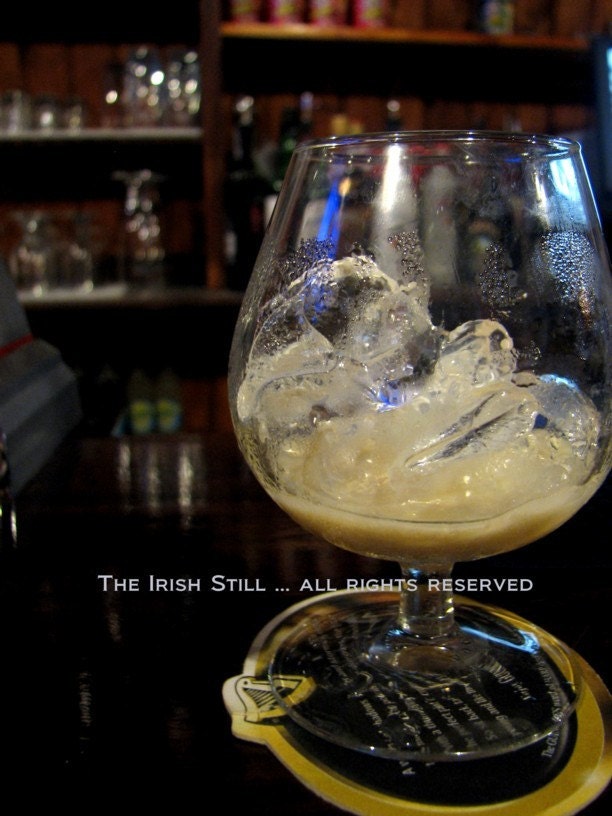 So I'm forbidden by Mrs. Ryan to give out the exact recipe for her delicious creamy nectar of the Gods! However, I've found some online that are very similar...I'm pretty sure that they're going to be very close in taste. One good tip...go for the cheap blended whiskey! And you may as well buy enough to make several bottles to give away as gifts. Slainte! ♣
1 3/4 c. Irish whiskey
1 can Eagle sweetened condensed milk
1 pt. whip cream
2 tbsp. Hershey's liquid chocolate
1/2 tsp. almond extract
1 tsp. vanilla extract
4 eggs
OR:
1 c. Irish whiskey
1 can Eagle Brand milk (14 oz.)
4 eggs
2 tbsp. vanilla extract
2 tbsp. chocolate extract
1/2 tsp. coconut extract
1 tbsp. powdered espresso instant coffee
1 c. whip cream
WITHOUT EGGS: